The term native advertising was first coined in 2011, but the practice creating ads that fit seamlessly within the context of the channel in which they are placed is as old as advertising itself.
The definition of a native ad is any form of paid marketing that is created to match the style and format where it appears. Examples of native advertising would be magazine advertorials, product placement in TV and movies, and most recently sponsored content on social media.
The power behind native advertising's effectiveness is that it doesn't look like typical advertising, of which most people, especially younger generations, may be skeptical. Native ads follow the flow of the content on the page and should not disrupt the user experience like an ad would.
Native Advertising in Digital Marketing?
Many social media channels and digital platforms offer native advertising opportunities. These include, but are not limited to:
Sponsored Posts
Marketing is about developing a relationship with your audience and then leveraging that relationship to sell your product or service.
But what if you don't have strong, existing relationships?
This is where influencer marketing and sponsored posts come in.
Sponsored posts are a type of native ad that leverages an influencer's audience and aesthetic to introduce your product to that influencer's existing, loyal audience.
They are typically more educational, leveraging a behind-the-scenes feel to show how the influencer uses your project or service in their daily life and what they see as the benefits.
With sponsored posts, it's essential to not only ensure they're native to the channel but native to the influencer as well since they too have to worry about the authenticity and 'spamminess' of their content.
It has to be a good fit for all parties involved, or else it just won't work.
Now while it's important to be as seamless as possible, it's more important to adhere to FTC rules regarding paid endorsements. If a brand pays, gives free product, or provides discounts to an influencer, the influencer must disclose that to their audience.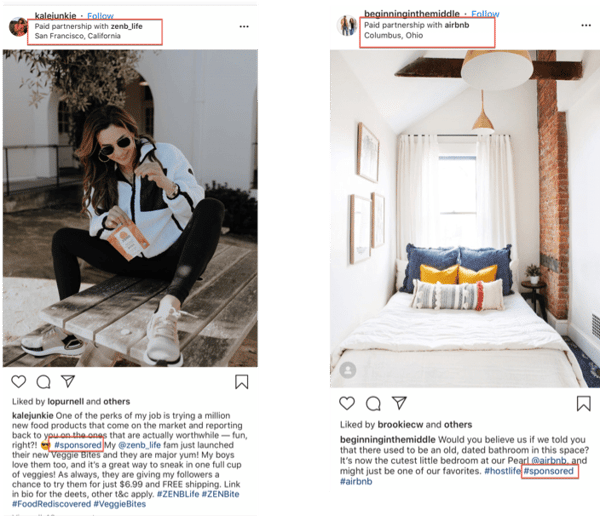 "In-Feed" Ads
Specifically, when it comes to digital marketing, native advertising often takes the shape of "in-feed" ads on social. For example, a boosted post or ad placed in the news feed tends to perform better on average since the feed is where the users' attention is primarily drawn.
But just placing your ad in the feed isn't enough. Consider your own social media habits. If you're like us, when you're scrolling your feed on Facebook or Instagram, you want to see content relevant to you from people you have chosen to follow.
So it's crucial that your advertising fit the tone and look of the feed and your targeting matches your product or service accurately, or else your content will scream "ad" and with be ignored or worse: the user may hide or report the ad to get it off of their feed.
This matters because Facebook's business model is based on keeping its users (relatively) happy by knowing who they are and what they will like. If members of your target audience hide or report your ads, Facebook will see that as a signal that your ad or its targeting may not be relevant to the audience you've selected, and they may limit your reach so as not to spam its users.
Search & Promoted Listings
One form of native advertising that you run into often is sponsored ads and product listings that appear either at the top or alongside your Google search results.
These are delivered in a format that closely mimics organic search results and product listings to feel like they're adding to your search, not distracting you from it.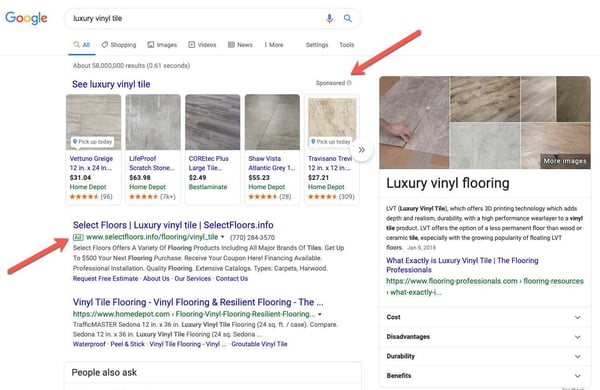 Content Recommendations
These are advertorial-type articles that are mixed in with normal editorial content on a publisher's website. These may appear under an article you just finished reading, or as shown here on Forbes.com, they could be mixed in on with the other articles.
Most publishers have guidelines for recommended content, and, like social or search ads, they must be shown with a disclaimer to avoid tricking consumers.

Social Media Camera Filters & Sponsored Hashtags
Social media is highly visual and people are increasingly sharing edited images and videos on their social channels. Because of this, you may have noticed a consistent rotation of branded filters on Instagram, Snapchat, and others.
On platforms like Twitter and TikTok, brands can sponsor hashtags in an attempt to start and nurture a conversation related to their brand.

When to Use Native Advertising?
A benefit to using native advertising is that it helps raise awareness of your brand among an audience who is interested in your category but may not be actively looking for your product or service.
Native advertising can help address the awareness phase of the consumer decision journey by providing some educational and contextual information around the problem that your product or service solves. The idea is that this information will help the user better identify their need or interest and take the next available step, which is to click through to your website to continue their journey.
Netflix has a history of doing this well in partnership with the New York Times, Wall Street Journal, and others. In the example below, Netflix created an interactive feature on WSJ.com called "Cocainenomics," which used footage and graphics from their series Narcos to tell the story of the Medellín drug cartel.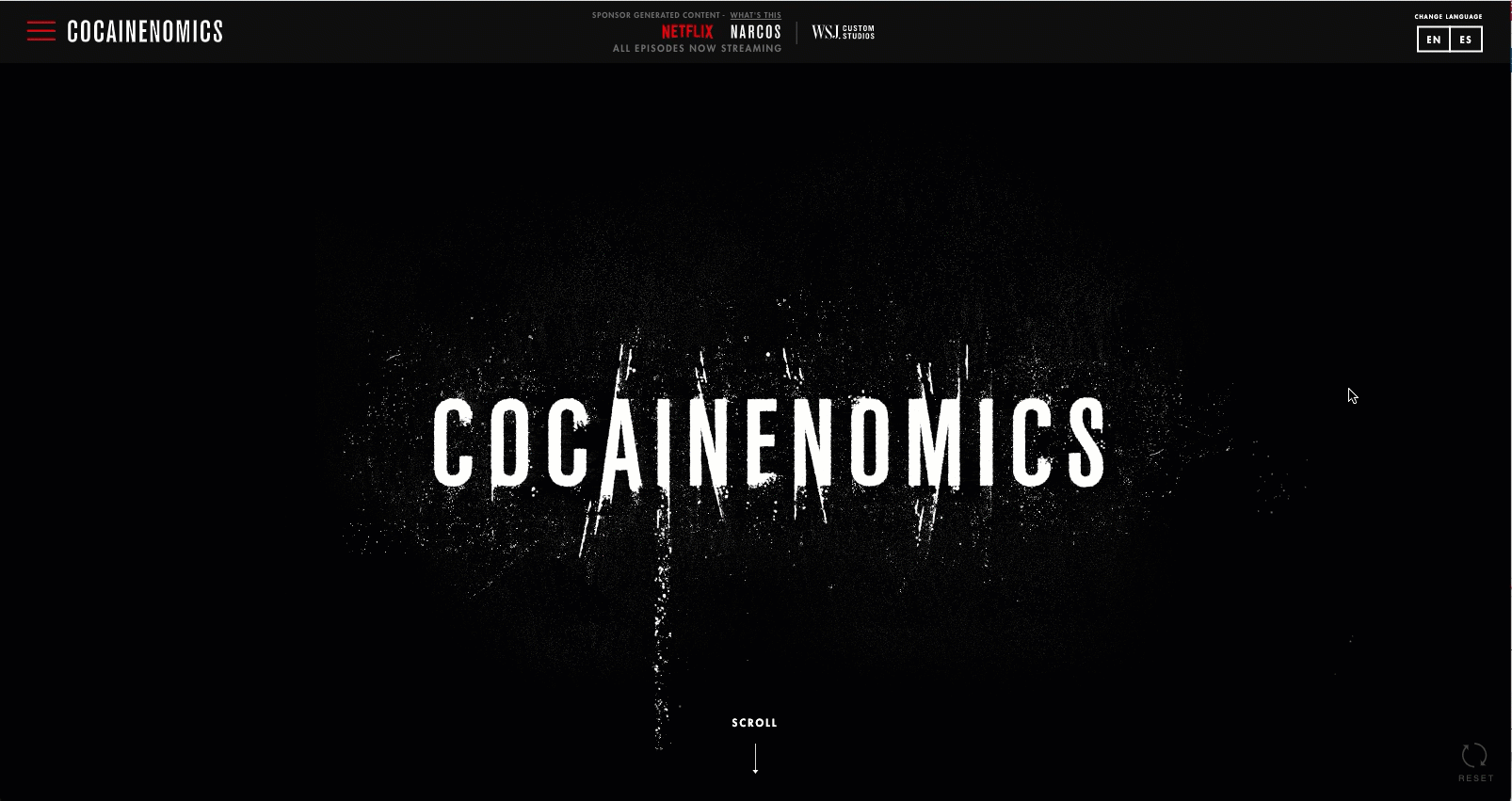 The feature is impressive, engaging, and written in a way that you would expect from the Wall Street Journal; however, the WSJ News Department had nothing to do with it.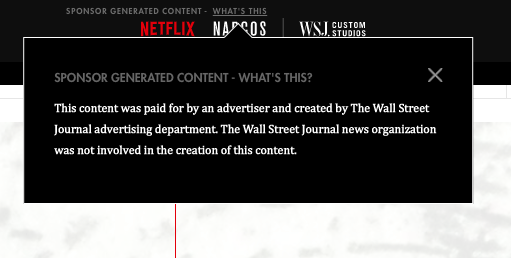 This is purely native advertising from Netflix that is trying to get WSJ readers engaged in the story the show is based on prior to the series premiere in order to drive interest in watching the show.
The Difference Between Native Advertising and Content Marketing
Imagine two people heading to the store looking to buy a gift.
The first shopper walks in knowing basically what they're looking for, but they haven't settled on the exact purchase yet. However, they know where to look and have a basic sense of what they're going to buy.
The second shopper is "window shopping." They aren't really sure what they're looking for, but their plan is to wander around until they see something that catches their eye. They may not have a need identified for the gift recipient, but maybe seeing something will trigger something in their mind and make sense as the perfect gift.
In a way, this is the difference between content marketing and native advertising.
In content marketing, you are developing content to be found by an audience searching for that type of content. Additionally, your goal is to build a critical mass of content to engage users more deeply, more frequently, and help guide them to purchase.
In native advertising, your goal is to catch someone's attention through context, not by your brand name.
That context could be an article that speaks to an issue or problem they're trying to solve, association with an influencer they admire, or detailed targeting that leverages their stated interests.
Whatever grabs their attention enough to introduce your brand as a next step.
Does Native Advertising Work?
Native advertising is very effective when done correctly, of course.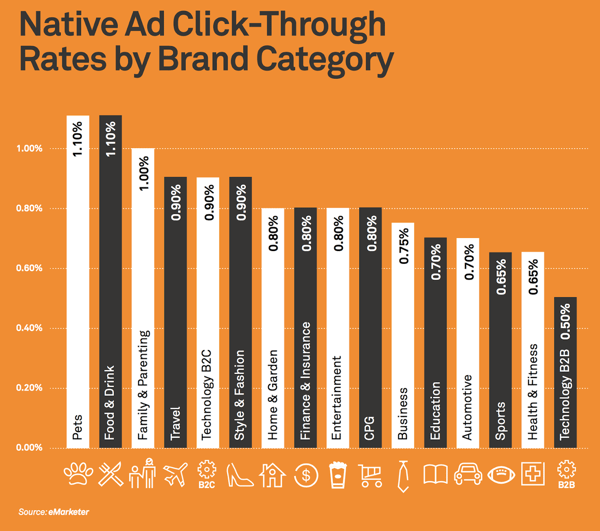 Additionally, native advertising helps brands escape the blinders that most consumers have online when it comes to banner ads and other traditional ad formats.