6 min read
A Guide To Using Instagram Reels In Your Marketing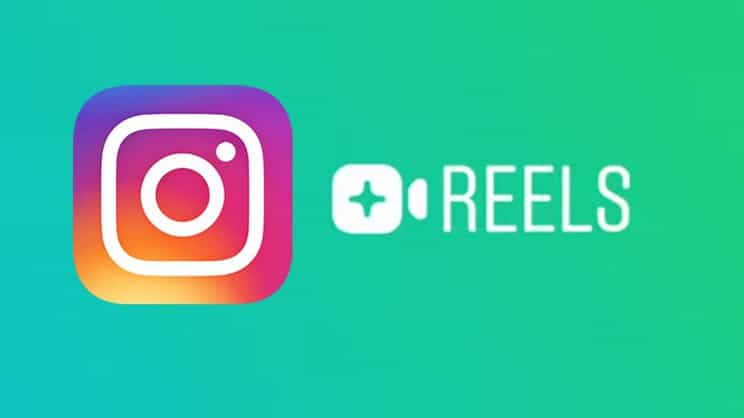 To make a case for why you should consider using Reels in your marketing, it's important to begin with the fact that Facebook tried to acquire Snapchat for $3 billion dollars in 2013. At the time, Snapchat was extremely popular with a younger audience that was moving away from Facebook.
Snapchat said no.
Facebook created Instagram Stories, and quickly surpassed Snapchat's daily active users.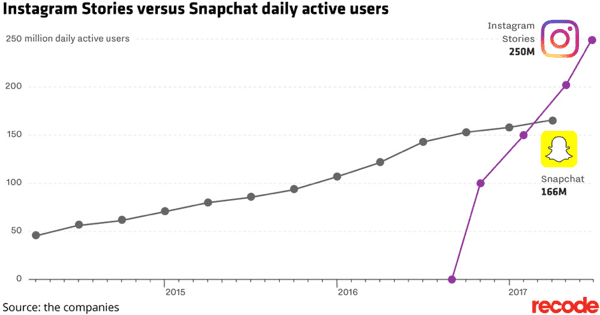 A few years later, an app called Musical.ly became popular with Gen Z. It allowed users to record 15-60 second videos in either one or multiple shots. The videos were mainly lip-syncing or dancing to music and movie clips.
Facebook, again, tried and failed to acquire Musical.ly in 2016. Instead, a Chinese company purchased the app and renamed it TikTok.
Facebook has now launched Reels. Notice a pattern?
Introducing Instagram Reels
Instagram's newest feature, Reels, lets users record and edit 15-second multi-clip videos with audio, effects, and other creative options. You can share reels with your followers on your main feed (though you don't have to), and make them available to the everyone through Instagram's Explore feed.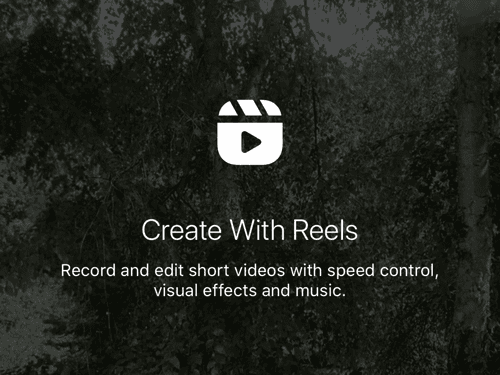 Like Stories before it, Reels is a direct response to the popularity of TikTok. In the first quarter of 2020 TikTok generated the most downloads for any app ever in a quarter.
Older generations have helped to accelerate TikTok's growth as they join the core Gen Z audience that has been there since the Musical.ly days.
What is important for marketers to understand is that Reels is not a standalone app. Like Stories, it has been built into the core functionality of Instagram.
This is important because Instagram provides an existing user base, and familiar experience. And, as they did with Stories and IGTV, you can bet that Instagram is going to rework their algorithm to encourage its use and ensure Reels is a success.
What are Instagram Reels?
If you're familiar with TikTok, you'll be familiar with Reels.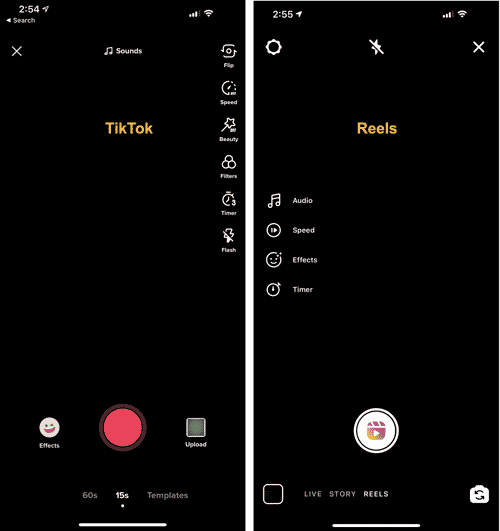 With Reels, Instagram users can record and edit together 15-second video clips and share them to their Stories, Explore Feed, and the new Reels tab on their profile.
The Reels section of the updated Explore feed is Instagram's version of TikTok's For You page. This is where public Reels are shown to users based on who you follow, what's trending, other Reels you've engaged with, your location, along with other data. In addition to these public Reels, you'll also see Reels from the accounts that you follow directly.
Most importantly, where as video posts on Instagram used to appear twice as large on the Explore page as image posts, Reels now take up over half of the page, further incentivizing users to create Reels as a way of growing their audience.
Some of the Reels in your Explore feed will have a "Featured" label above the caption. According to Instagram, this indicates public Reels that are being highlighted to show creative use cases. If your content is selected as featured, you will receive a notification letting you know.
Also like TikTok, users can select music from the Instagram library or use their own original audio in their Reels.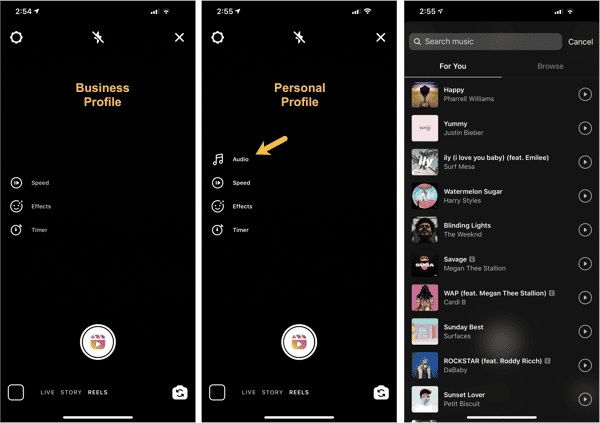 When you find a song or audio clip you'd like to use, you can tap the music and select "Use Audio". However, if you have a business profile (which most of our readers do) you may not have access to the Instagram music library due to commercial music rights restrictions. You can use your own original or licensed audio by including it in the video using a separate editing program.
Reels also provides a number of in-app video editing tools, such as a video countdown timer, options to adjust your video's speed, and a number of effects like augmented reality skins and backgrounds.
When making a Reel, you can capture video clips in real time or upload pre-existing clips from your camera roll.
On TikTok, it's believed that the algorithm favors in-app creation vs. videos edited outside of the app and uploaded however that is based on anecdotal evidence and time and experimentation will tell if the same applies to Instagram's algorithm as well.
Once you completed your video clips, you can use the drawing and text tools and choose from a selection of Instagram stickers (again, similar to what you see on Stories).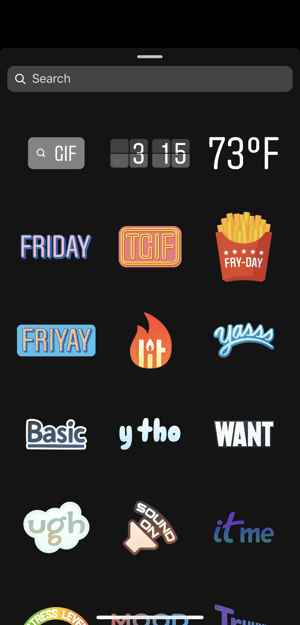 However, at this time, you will not have access to shoppable stickers and swipe-up links, but we imagine those are coming as they eventually did with Stories.
How to Use Reels in Your Marketing
Reels gives brands with a new way to build and engage their community on Instagram and expand their reach. Like Stories and IGTV, Reels provides brands with an option to get creative with their content without impacting the look of their main Instagram grid.
If you're already using Instagram to market your brand, it's worth adding Instagram Reels to your arsenal. Here are some types of content to consider:
Educational Content
Educational content is highly valuable and engaging. If you're a hospitality brand, consider quick travel tips. If you're a clothing brand, you could share there clever wash and care, or style tips that you can share?
Educational, or how-to, content is also a great way to get your existing audience involved.
Consider using the question sticker in Stories to crowdsource the type of educational content your audience is interested in, or ask them for their own tips and create Reels based on the best ones giving the user a shoutout for the contribution.
Behind The Scenes
Authenticity is always something to strive for in social media and behind-the scenes content is one of the best ways to be authentic.
Your followers will appreciate special access, so consider sharing sneak peaks of upcoming product lines, new in-progress locations, your creative process, or what it's like on a photo or video shoot. These 15-second, non-staged, windows into your brand can help build excitement and deepen the relationship your followers.
Product Highlights
Instagram Reels is a great opportunity for brands looking to drive product awareness and sales.
Create content focused on specific products. These quick videos can highlight different angles, product features and benefits, and build excitement around new items.
Since your Reels will be shown on a public Explore page, you'll be getting your content in front of users who don't currently follow you. This is difficult to do with your Feed or Stories, so take advantage of it and make sure you use relevant hashtags and descriptive captions. This will ensure so Instagram puts your Reels in front of the right people.
The Future of Instagram Reels
Looking at recent history, it's safe to bet that Instagram Reels is not only a feature that's here to stay, but one that Facebook intends to build out as a direct competitor (or potential replacement) for TikTok.
Because of this, it's safe to assume that much of the paid advertising, e-commerce, and analytics options that are currently available on other Instagram features will be made available to Reels soon.
So while Reels is still in its early stages, consider experimenting with different creative to find what works best for you and your brand. If the user adoption is anything like Stories was vs. Snapchat, it will be a great way to grow and engage your Instagram following and you'll be glad that you started early.